Over the past 25 years, halftime at the Super Bowl has transformed from being America's favorite synchronized toilet break into a mecca of the entertainment industry. The Super Bowl has become, far and away, the most popular broadcast in the United States, with the 2012 Super Bowl holding the record at 166.8 million viewers. Halftime musical acts have grown from marching band-style performances into massive spectacles, drawing slightly stronger ratings than the Super Bowl itself in recent years and featuring music's biggest names. Inflated budgets and bigger egos have led these performances to vary drastically by the year. The Scene remembers the five best and five worst acts in the history of the Super Bowl.
The 5 Best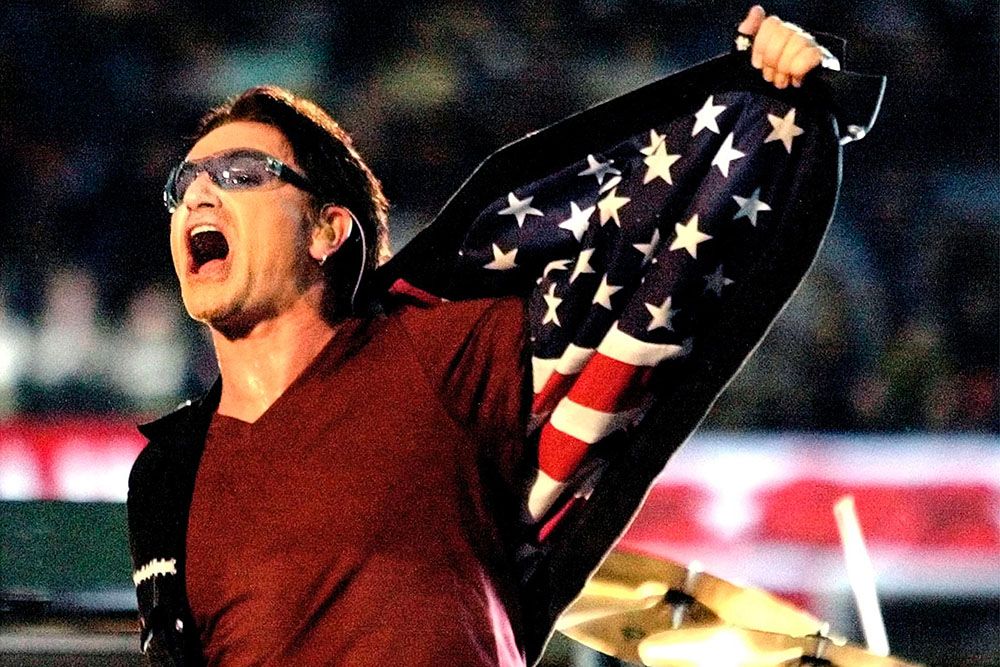 5. U2 (2002)
It had been only five months after the attacks on Sept. 11, 2001 when Irish rockers U2 took the stage to play at Super Bowl XXVI. Viewers nationwide were brought together as the band opened with its hit "Beautiful Day," but they were truly united when it performed "Where The Streets Have No Name," dedicating the song to the victims of the tragedy. As Bono sang out earnestly, running around an illuminated heart-shaped stage, the names of those lost on Sept. 11 scrolled up on a projected backdrop. The performance was both poignant and passionate. At the end of the set, Bono stared out at the crowd and opened his jacket to reveal the red, white, and blue stars and stripes of an American flag printed into its lining. -A.I.
4. Bruce Springsteen (2009)
Bruce Springsteen did something radical in the recent institutional memory of the Super Bowl halftime show: he just performed. No one descended down to the stage on cables, and there were no costumes to speak of. Excluding a rather extensive firework display, which was integrated into the performance, there was little spectacle to The Boss' show. He did, however, touch on four of his greatest hits: "Tenth Avenue Freezer," "Born to Run," "Working on a Dream," and "Glory Days." An especially gratifying moment of the performance came in the beginning when Springsteen ordered audiences to "step back from the guacamole dip, and put the chicken fingers down." Could this be a metaphor for the performance to come? Probably not, but it was great to see Springsteen having this kind of fun performing for television's biggest audience. -J.W.
3. Beyonce (2013)
Destiny's Child reunited on stage during the 2013 Super Bowl halftime show, and Beyonce was so damn fabulous on her own that no one especially cared, or remembered that segment of the show. Director Hamish Hamilton went big with the 2013 show, going so far as to insert six CGI Beyonces onto the stage during the Houston pop star's performance of "Crazy In Love." The performance was heavily charged with feminist motifs, with the stage for the show actually being the faces of two women. Additionally, every single performer at the halftime show was a woman, from the dancers to the band. Beyond that, Beyonce's halftime show celebrated her extensive career, starting with her work with Destiny's Child, and continuing to recent successes like "Single Ladies (Put a Ring on It)" and "Halo." -J.W.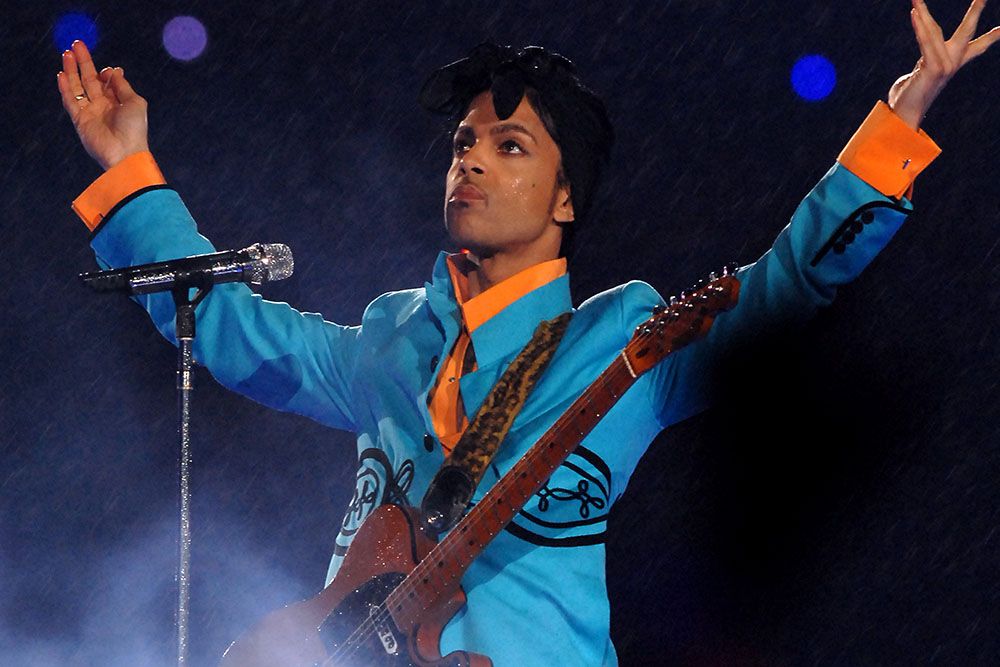 2. Prince (2007)
And Prince said, "Let there be rain," and there was rain. Okay, maybe it didn't happen exactly like that, but there's no denying the epic rainy adventure that was Prince's 2007 halftime show. He started off with a rendition of Queen's "We Will Rock You," moved into some of his own songs, such as "Let's Get Crazy," and added in some surprising, yet brilliant covers-Foo Fighters' "Best of You" was especially unexpected. Even with a neon-clad marching band, purple guitar, and glowing stage, Prince still managed to amp up the drama-by finishing off with his signature hit "Purple Rain" amid a downpour. Mother Nature certainly did rain on the parade-in the best way possible. -M.T.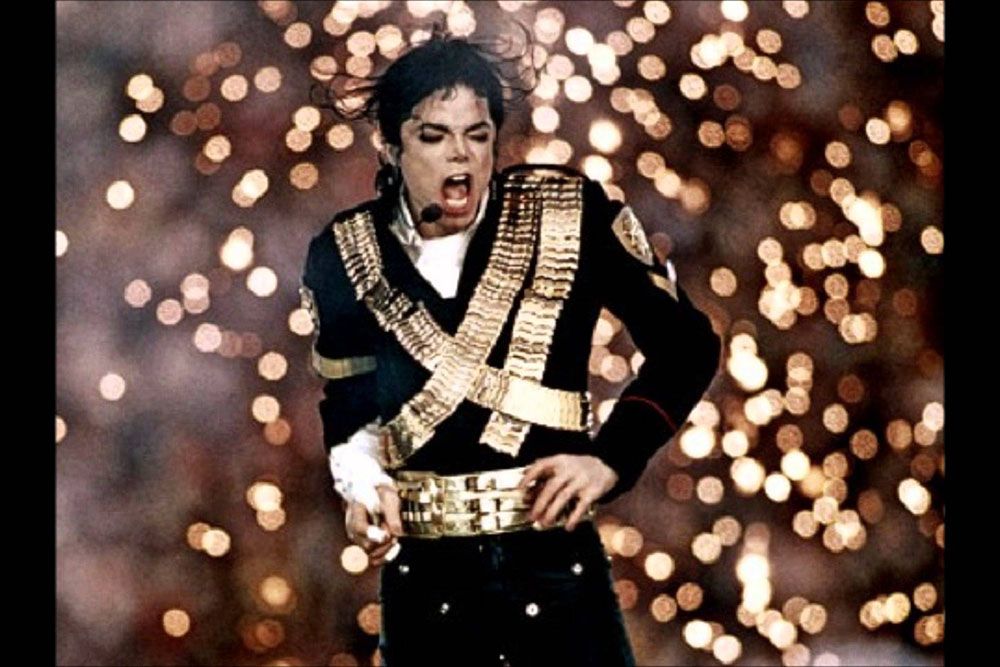 1. Michael Jackson (1993)
Not many people can stand motionless on a stage for almost a solid two minutes and get away with it, but Michael Jackson did just that to commence his Super Bowl performance in 1993. MJ's halftime show was probably one of the last times we truly got to see the King of Pop in all his glory before his personal life took a turn for the worse. Jackson gave viewers a taste of classics like "Billy Jean" and "Black or White," but the heart of the show came with his performance of "Heal the World." About 3,000 children flooded the arena, while people in the stands held up drawings that children of Los Angeles had made. A giant globe ascended from the stage, and the cameras captured the smiling and waving children-ending the performance with a warmer message of love and international unity. -M.T.
The 5 Worst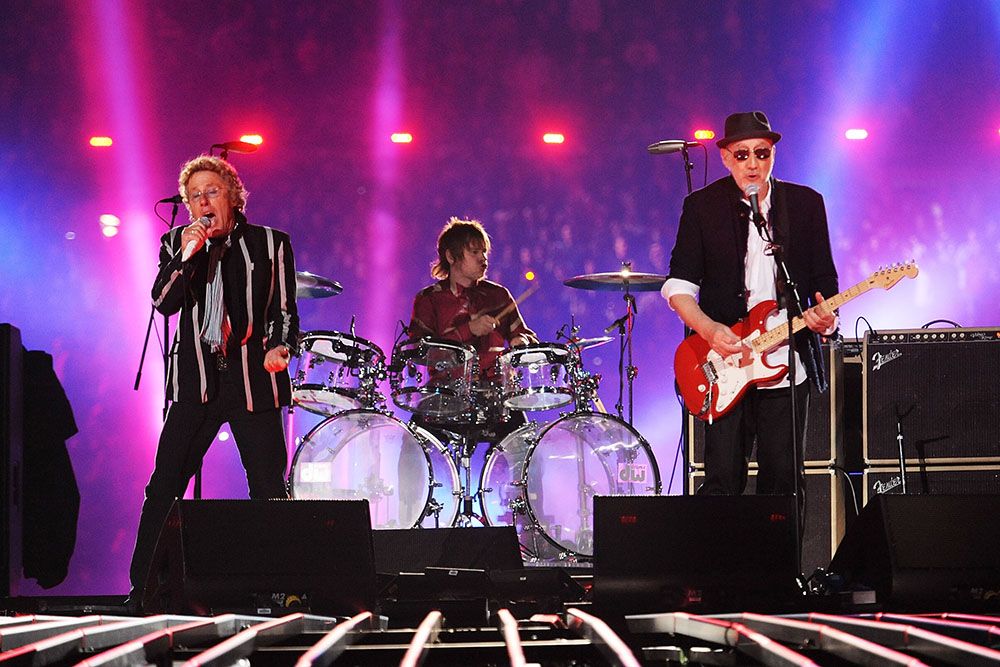 5. The Who (2010)
While committed admirers of The Who expressed absolute praise after the band's performance at Super Bowl XLIV, other halftime show viewers were left more or less unfazed. The 1960s rockers played through a collection of longtime fan-favorites-"Pinball Wizard," "Baba O'Riley," "Who Are You," "See Me, Feel Me," and "Won't Get Fooled Again." Their efforts to appear dynamic on stage are worth commending, but there's no denying that Roger Daltry and his crew showed some signs of wear and tear, with obvious reason-The Who is often remembered as the loudest band in history, and its members have suffered significant hearing loss. Much of the concert's energy, then, was due not to the band, but to the intense, LED "Captain America"-themed stage they sang on. Ultimately, 2010's show left little to be remembered. -A.I.
4. Madonna (2012)
Gladiators, cheerleaders, and Madonna-one of these things is definitely not like the others. But we'll forget about that for 2012's halftime show, when Madonna decided to unite the worlds of ancient Rome and high school in her woefully overdone performance. Performing songs such as "Vogue" and "Music" while unsuccessfully attempting to keep up with the acrobatic dancers around her, Madonna just couldn't settle on one theme, and the show became more about the spectacle than the music itself. LMFAO joined in with "Party Rock Anthem," M.I.A. flipped the bird for all of America, and Cee Lo Green gave the people what they wanted by dressing in a marching band uniform. Thankfully, Madonna ditched the gladiator getup for her final performance of "Like a Prayer," which was one of the few redeeming parts of her show. Even Cee Lo sparkled-in a black sequined choir robe, that is. -M.T.
3. Janet Jackson and Justin Timberlake
Ten years ago, at Super Bowl XXXVIII, the world was introduced to the "wardrobe malfunction"-and to Janet Jackson's right nipple. Jackson fired through the beginning of the show with a medley of songs including, "All For You," "Rhythm Nation," and "The Knowledge," but it was her controversial duet with Justin Timberlake that shocked audiences everywhere. As Timberlake crooned, "I'm gonna have you naked by the end of this song," from the closing lines of his single "Rock Your Body," he tore off part of Jackson's costume, revealing her breast. Fines, Supreme Court action, and stricter censorship laws followed the scandal, making it more than just an accidental fashion mishap, and rather a formative event in pop culture history. -A.I.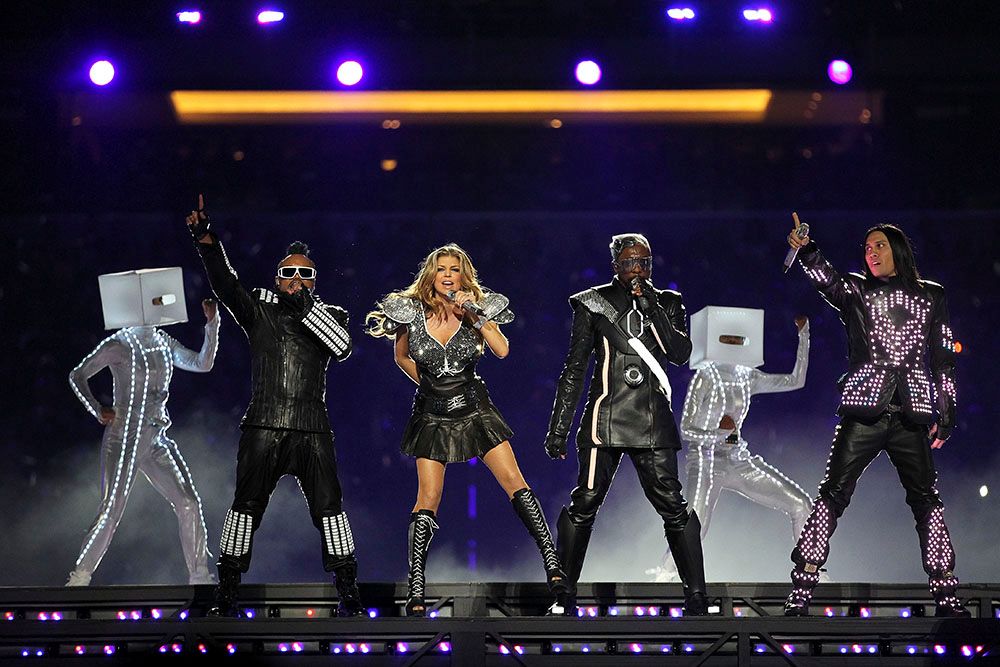 2. The Black Eyed Peas (2011)
The Black Eyed Peas' 2003 hit, "Where Is The Love?" opens with a very big question. "What's wrong with the world, mama?" asks rapper will.i.am at the beginning of the song. Although there's a simple answer to will.i.am's question, the Black Eyed Peas' 2011 Super Bowl halftime show is a very good place to start. The massive performance began with the hip-hop group descending into Cowboys Stadium on glowing discs, wearing light-up Tron: Legacy jumpsuits (yes, the entire show was themed after the Disney movie) and related headgear. Musically, however, the Black Eyed Peas did far less to shine, and if anything, made a strong argument for Super Bowl executives to seriously  consider lip-synching as a healthy alternative to whatever in God's name happened in that stadium. Unfortunately for the Black Eyed Peas, auto-tune only works with a ballpark estimate of what the song should sound like. -J.W.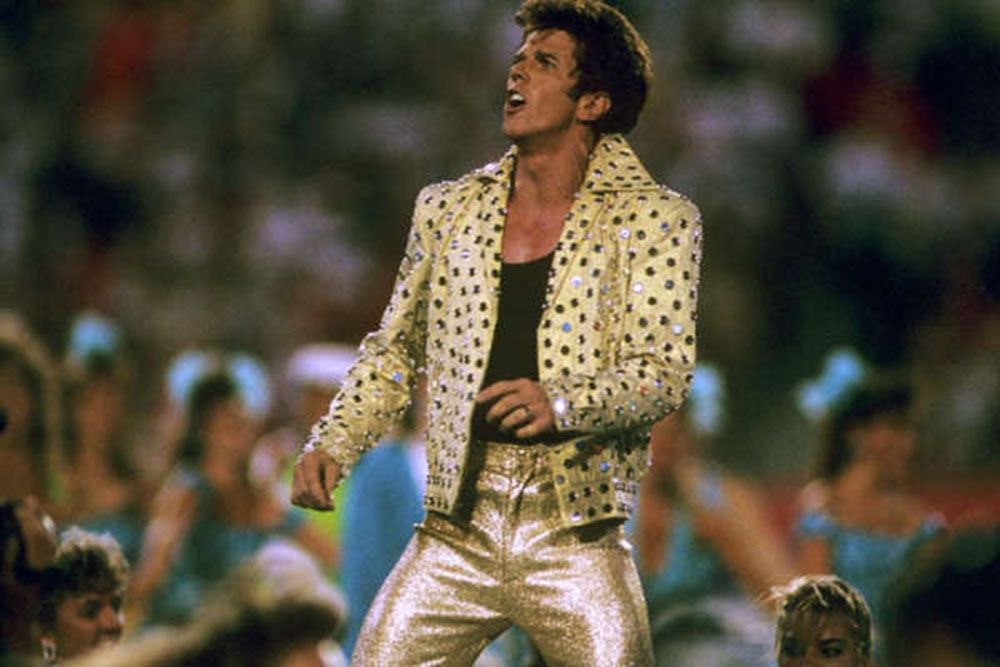 1. Elvis Presto (1989)
Throw together some crude 3D special effects, a group of South Florida dancers, and an Elvis impersonator/magician-and Presto!-you've got the 1989 Super Bowl halftime show. Wearing a heavily sequined costume and a shining black wig, the then 33-year-old actor Alex Cole played Elvis Presley for the concert, laughably titled, "Be Bop Bamboozled in 3-D." He sang not a single Elvis song, believe it or not, but performed what came to be known as the "world's biggest [read "least impressive"] card trick" ever. It's bad enough that an Elvis impersonator was trying to do magic, but it's even worse that he got the trick wrong. With that said, it's fair to say the XXIII Super Bowl performance is one most of us wish could just disappear. -A.I.