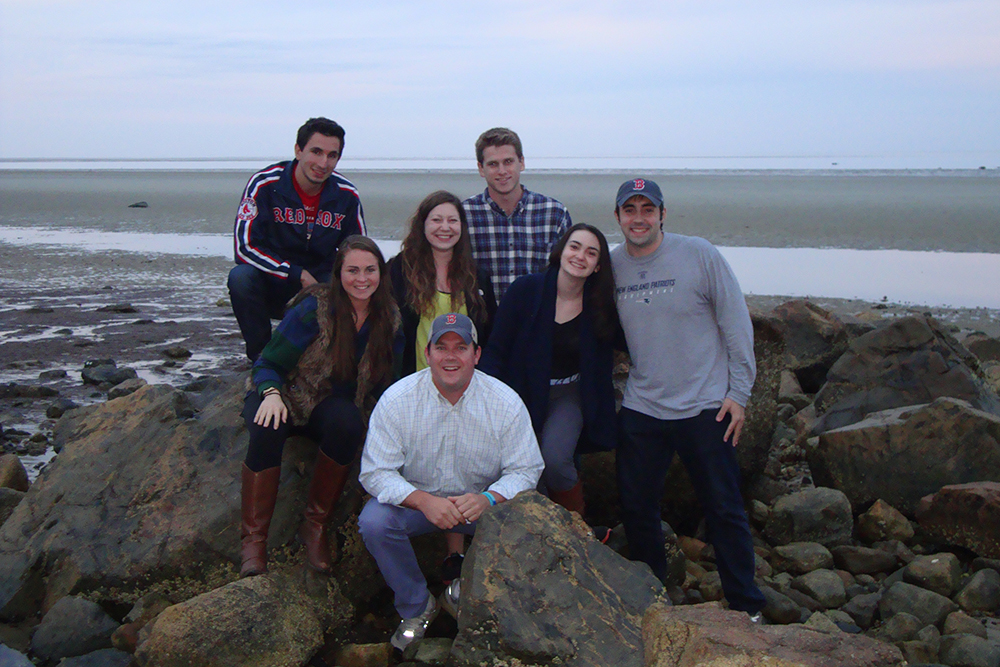 CSVBC Shows Resiliency In Marathon Year
Nestled in the corner of the first floor of Campion Hall, there exists a small, relatively drab room.
Not much bigger than a typical dorm room, Campion 183 is visually unimpressive. Surrounded by grayish walls, mildly worn linoleum floors, and home to only about a half-dozen plastic chairs and a modest table, the room initially evokes a sense of the mundane, the ordinary-just a room.
But every week, six Boston College students file into the room and a transformation of the once-muted space tucked away in Campion Hall begins to take place.
Brianne Shannon, CSOM '14; Chelsea Beyrand, LSOE '14; Chris Marino, A&S '14; Alex Schlatter, A&S '14; Paige Marino, A&S '15; and Max Jackson, A&S '14, comprise the executive team of the Campus School Volunteers of BC (CSVBC), and convene every Tuesday to discuss the daily, weekly, and longer-term progress and plans for all things Campus School.
Taking seats circularly around a table partially covered with about four or five pizzas for the week's meeting, the six start dishing jokes with each other and catching up on weekly activities, and the formerly lackluster room begins emanating a sense of radiant purpose.
RELATED: CSVBC Holds First Successful Marathon Sunday
Shortly after, the students are accompanied by Volunteer Coordinator Sean Schofield, a longstanding figure of the Campus School community, who starts the meeting with an update on the latest event to be put on by CSVBC-the organization's 18th Annual Campus School Golf Classic, taking place tomorrow.
When discussing his role and transition to the University, Schofield-who currently oversees the student volunteers at BC's special education day school for students aged three to 21 with multiple disabilities and often highly sensitive health care needs-said there was a time earlier in his life when he faced an uncertain career crossroads, but he was ultimately led toward BC.
"[The Campus School] is student-first and celebrates the individualities in each one of our kids, and saying 'We're going to work on what you can do, not what you can't do,'" Schofield said on his approach to working with Campus School students since arriving at BC.
In scale, CSVBC has approximately 375 students on the organization's email list and about 60 fully committed volunteers who work within nine different committees-the six officers are responsible for managing the entirety of that volunteer base. The student volunteering experience, Jackson noted, not only helps students develop substantive relationships with their individual buddies, but also affords that experience to others within the BC community.
"What's really unique about the Campus School is that we are connected with the BC community in so many different ways," said Jackson, who is CSVBC co-vice president alongside Schlatter. Jackson noted that professors such as James Gipps of the information systems department in the Carroll School of Management have worked with the Campus School-Gipps having developed a software project called Eagle Eyes designed to enable young adults who cannot speak to use eye movement as a means of accessing a computer.
CSVBC members have also integrated ways of expanding their outreach with initiatives like Creative Kids-a music program within the Campus School-and interaction with student clubs like on-campus sketch comedy troupe Hello…Shovelhead!, which donated all of the profits from its last performance to the Campus School.
Despite its popularity among students, faculty, and alumni, though, the Campus School and its volunteers navigated a rather turbulent 2013-14 academic year.
Last November, the University, along with Campus School Director Don Ricciato, announced its consideration of relocating the school to the Kennedy Day School-a newly-built, 20,000 square-foot wing of the Franciscan Hospital for Children in Brighton, Mass. dedicated exclusively to special needs children and having an enrollment of 70 students, compared to the Campus School's 38. The announcement, said Marino, CSVBC co-president, shocked many volunteers, but served as a reminder of the school's value on campus.
"In the moment it was definitely a nerve-wracking year, and there was so much in question that was difficult to deal with, but I also look at this as kind of a blessing, because you become complacent with having something that's part of your everyday life like the Campus School has become for us," he said. "It's very easy to take for granted, but I think while we all truly love working with these students and making these great friends in the classroom, and with the volunteers, and staff, I think when you do something long enough it's kind of easy to forget how important that is in your life."
"This was a very different year for a lot of us," said Beyrand, CSVBC co-president. "It's something none of us expected … we had so many people at stake in these issues, and we all really needed to come together, but that's exactly what we did."
After a nearly semester-long dispute among Campus School students' parents and the administration regarding the possibility of relocating the school, a decision was reached to keep the Campus School on campus grounds, pending a long-term sustainability plan to be created by staff, parents, and students by the end of the year in order to help combat the declining enrollment and decreased fundraising that led the University to consider alternative locations for the school.
Just a few months after settling the Campus School's location, the Boston Athletic Association announced that due to heightened security concerns surrounding the 2014 Boston Marathon, bandits, or unregistered runners, would be prohibited. Tradtionally, hundreds of BC students-CSVBC runners and non-volunteers alike-have run the marathon each year as bandits to raise money for the Campus School. This year's newly implemented set of restrictions made unregistered race participation impossible, halting an annual tradition.
In response, members of CSVBC held their own marathon one week prior to the Boston Marathon, still garnering a major showing of BC students along Mile 21 to support friends and family running for the Campus School.
"I think what everyone from Boston College thinks about the marathon and Marathon Monday-a huge component of that is seeing those yellow shirts supporting the Campus School," Marino said. "But I think what is most exciting about these Campus School runners is that they're running for something bigger than themselves."
Although faced with what seemed one of their most demanding years since the school's inception in 1970, the officers remain highly optimistic about the future of the Campus School and the volunteers that have continued to adapt in a year filled with obstacles.
"I guess the key this year has been the word resiliency," Marino said. "I think that our organization-whether it be the Boston Marathon or even more so the possible close of the school has shown just how resilient we can be as a community, especially when you care about the people you are working for so much."