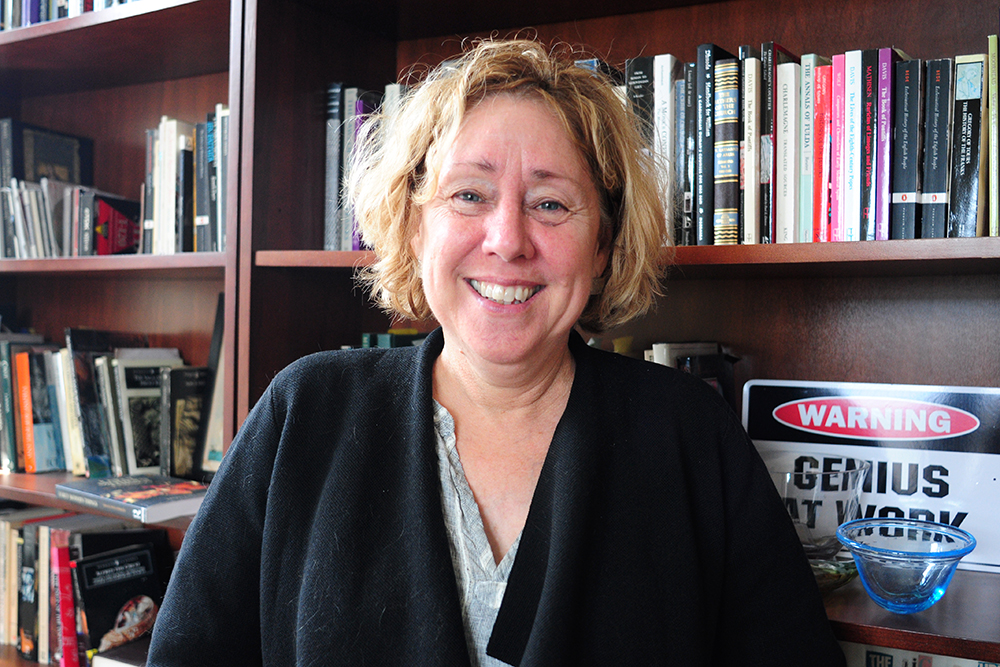 Robin Fleming Becomes The First Ever BC Professor To Win A MacArthur Genius Grant
If you're looking for Robin Fleming in a tent on an exotic archaeological dig, you probably won't find her there.
While field archaeologists dig and lab rats perform scientific analyses, Fleming—whether foraging through filthy and disorganized storerooms or lecturing in a classroom at Boston College—is fleshing out the stories that unearthed materials alone can't tell.
The professor and chair of the history department has made it her job to paint a picture of ordinary life for ordinary people in medieval Great Britain, shifting her focus from traditional textual evidence to material objects.
In this way, she is unlike many historians.
"I'm certainly more interested in bioarchaeology and scientific archaeology, which I do think gives me a different idea about what kind of questions we can ask and what kinds of questions are important," Fleming said.
Through analyzing materials, from skeletal remains to pottery and metalwork, Fleming can tell where people from the medieval period were born, what they ate, and where they stood in society. In her work, kings and elites are no longer the sole characters in historical studies, but peasants and lower classes are represented as well.
RELATED: Fleming Receives MacArthur Grant
Her interdisciplinary mindset has her collaborating with scientists across the world, particularly in Britain, her true area of focus. Currently, Fleming is working with archaeologists from the University of Reading and the British government to analyze skeletal remains from 22 excavated Roman cemeteries in the small town of Baldock, north of London.
For Fleming, poking around for material evidence to fill gaps in a story that may have been previously told using only textual documents is satisfying work. In her body of work, which includes three books and numerous scholarly articles, she tries to make people actors in a story, and avoids writing in the passive voice.
"I think everybody deserves their stories be told, and I'm happy to be telling their stories," she said.
---
Growing up in California, Fleming did not like history, or at least the history she was taught in school. It was not until her experience as an exchange student in mid-1970s, apartheid-era South Africa that she realized she was interested in pursuing the subject in her career.
She sat in a classroom learning history that doubled as government propaganda, and the teenaged Fleming recognized that something was off. The history was being manipulated and used in different ways depending on the political and social context.
"I was in a history class where everything I was taught seemed wrong to me," Fleming said. "It was really studying history there and thinking, 'Wow, that can't be right,' that made me interested in history."
As a sophomore at the University of California at Santa Barbara—where she received both her bachelor's degree and Ph.D.—Fleming narrowed her focus to early British medieval history, and pursued it further while studying abroad in London.
Fleming said that her interest was sparked by an assignment to read a work by the eighth-century English historian and monk known as the Venerable Bede. While reading on the beach in Santa Barbara-not a place that immediately comes to mind for inspiring a passion for medieval history-Fleming had only one thought.
"I thought it was the most interesting thing I had ever read," she said.
---
Sitting in her simply furnished corner office on the third floor of Stokes Hall South, Fleming lowered her voice and did her best impression of the mysterious person on the other end of a call she received in early September.
"Are you alone?" she mimicked. "Can we speak confidentially?"
It was the afternoon of the third day of the fall semester at BC, where Fleming has taught since 1989. She was sitting in the same chair, minding her own business, when she answered the call that she initially thought was not only dodgy, but also obscene.
The call, though, was neither dodgy nor obscene, but rather, life changing. She had won a MacArthur Foundation Fellowship, widely known as the "Genius" grant, and she would receive $625,000 to pursue her academic interests with no strings attached. Each year, 20 to 40 U.S. citizens or residents receive the grant for displaying outstanding innovation and dedication to their field, and Fleming was the first BC scholar to earn the recognition.
She was allowed to tell her family, yet no one else could know about the accomplishment until the foundation made an official announcement later that month.
"I wandered around here for three weeks like a zombie, not being able to tell anybody," Fleming said. "It doesn't seem real if you're the only person who knows."
One day when Fleming was still remaining tight-lipped about the award, a camera crew arrived on campus at BC to film a short video for the MacArthur Foundation's website. The original plan was to film in her office, yet hot temperatures and a large crew would have made it necessary to keep the door open. Seeing as Fleming and the entire crew were sworn to secrecy, they insisted that the shoot be moved to the Burns Library.
A portion of the video shows Fleming teaching a graduate course to students who were under the impression that the footage was being used for the History Channel. Fleming recalled their reaction when they found out the video was actually for the MacArthur Foundation.
"They were really disappointed … they wanted to kind of mock the History Channel," she said.
And the people working at the Burns Library?
"I lied to them, too," Fleming said with a smile.
Fleming already has plans to use the grant money, which she said will go toward scientific work and materials associated with her current project in England.
The nomination process for the fellowship is completely anonymous, and Fleming said she has no idea how it works, but that numerous colleagues must have written to the foundation on her behalf. She got a small glimpse into the foundation's methods, though, with a somewhat random encounter a few weeks ago.
"A woman popped her head into my office and said, 'I'm just here for my daughter to look at BC, but I work for the MacArthur Foundation and I'm the person who led the investigation on you,'" Fleming recounted.
The woman then asked if Fleming had known she was being investigated, to which Fleming replied that she had not had a clue.
---
While she credited hard work and some serendipity for her grant, Fleming has not attained her current stature in her field alone. Working with both accomplished colleagues and students has allowed Fleming to toe the line between history and archaeology. These people have changed the way she thinks about her topics of study, just as she is changing the way people view the early medieval period in Britain.
Graduate students, many of whom are trained archaeologists, have applied to BC to work with Fleming specifically. Undergraduates are "lab rats" and willing to break out of their comfort zone to experiment with her unique approaches. Thesis advisees push her to read things she might not normally read as they become experts themselves.
One of Fleming's advisees, Maggie Scollan, A&S '14, is a biology major and history minor who recently finished her thesis on reconstructing the dietary habits of medieval populations using isotope analysis. She admires Fleming's casual, yet informative teaching style and her engaging and approachable demeanor.
"As someone who is officially considered a genius, she never is off-putting or intimidating," Scollan said in an email.
As Scollan will pursue a master's in archaeological studies at the University of Durham in Britain in the fall, Fleming said that Scollan could become a go-to person on bioarchaeology, adding to her extensive network of contacts.
Frank DiRenno, A&S '15, will work with Fleming on his thesis next year, focusing on isotope analysis and population migration using pre- and post-Roman teeth that are currently being shipped to Boston from Italy. He noted that Fleming has not only opened up connections for him within her field, but also helped him keep an open mind about the possibilities of his findings.
He pointed right to the heart of Fleming's interdisciplinary work as a beneficial aspect of her advising.
"[She taught me to] really follow what I'm passionate about, and that comes through in the fact that I'm interested in this stuff, but it's not really what I can study here," DiRenno said. "It's not really in the biology department, it's not really in the history department, but she's still been very open about allowing me to pursue what I'm interested in."
Just like her students, whose passions are split between academic departments, Fleming straddles a divide between history and science, disciplines that provide her constant intellectual stimulation. She may not live in tents or dig underground for the fourth-century beakers she studies, but she leaves her mark as a teller of tales previously untold, centuries in the making.