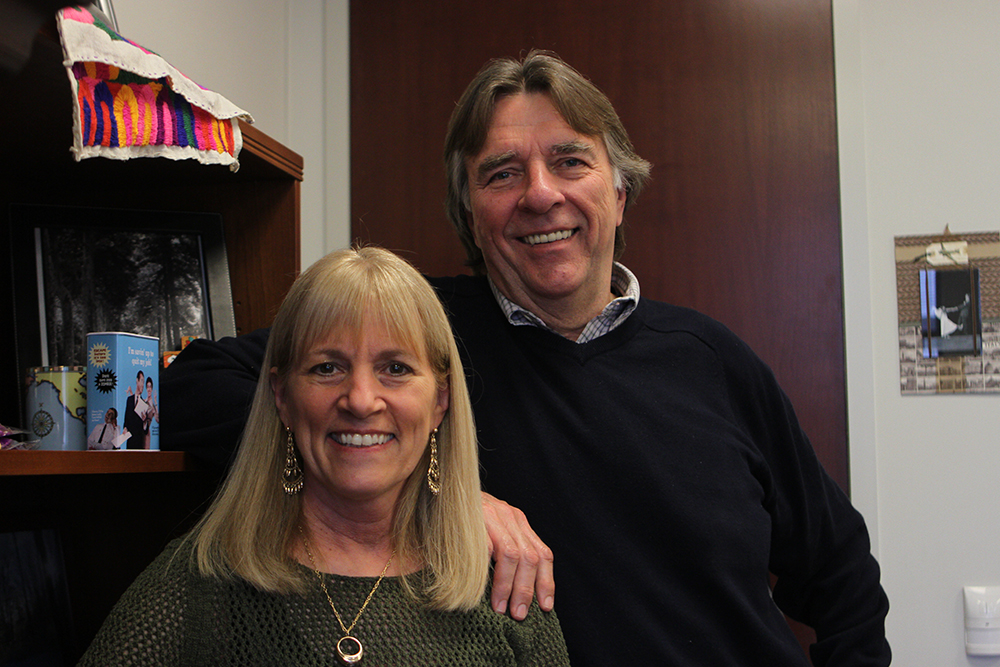 After Years Marked By Dedication And A Human Touch, Chebator and Zovko Will Retire Together
They're not sure how to pose for the picture.
Paul Chebator wants to put his arm up on one of the shelves in his Maloney Hall office, but Mer Zovko is uncomfortable with just standing beside him awkwardly. Chebator seeks a compromise and puts a hand on her shoulder-she remains unsatisfied, and it is her warmth that ultimately wins out: "I'm going to put my arm around you."
On the shelf behind them, there are photos from their wedding day.
Chebator, the dean of students at Boston College, and Zovko, an assistant director of the Student Programs Office, met at BC when she was offered a job in 1989 to run the Emerging Leader Program (ELP), which was only an eight-week program at the time and has since grown into its current form, in which 50 freshmen are placed under the tutelage of 10 sophomore facilitators who help the new students reflect and establish positive relationships throughout the majority of their first year of college. Chebator, who had been at BC since 1980 and was an associate dean at the time, worked with Zovko on the young program.
At the time, Chebator was married to another woman, but he and Zovko knew that they would be fast friends. When they drove to New Hampshire together to price out a location for a retreat, they spent time laughing on the site's rope bridges, an early sign of the playfulness that became an essential part of their friendship, eventual relationship, and marriage in 1997. In her, he found someone who appreciated his quirky sense of humor, and she found someone who could laugh with her about what she calls her own scatterbrained nature.
"It was a very natural relationship that we had," Zovko said while sitting beside Chebator in his office.
"Like an old pair of jeans," Chebator said. "Not that I'm equating you to an old pair of jeans."
Zovko smiled, amused. "Of course not."
---
After years of working together and separately to improve the University that they call home, Chebator and Zovko made the decision to retire together at the end of this semester.
They consider themselves fortunate to be able to retire at this time in their lives-they enjoy greater financial flexibility than most couples, having never had children together.
But Zovko insisted that this is not exactly true.
"We have 9,000 of them," she said.
RELATED: Chebator, Zovko Talk Relationship At Agape
Michael Padulsky, LSOE '15, is but one of the many students who Zovko has treated as she would one of her own children. An ELP facilitator during his sophomore year, Padulsky's relationship with Zovko actually began in 2005, when he met her through his older brother Tim, then a CSOM student and member of ELP. When Tim was diagnosed with leukemia in 2006, Padulsky's family spent almost every day in the hospital, with Zovko as a frequent visitor.
Soon, it came time for the Padulsky family to move its second son Stephen, BC '12, into his freshman dorm, and Zovko readily volunteered to spend the entire day at the hospital with Tim so that the family could spend the day focusing on Stephen.
"It kind of gave us a sense of normalcy," Padulsky said. "She was there for my brother and also for us."
Tim ultimately passed away in 2008, but Padulsky still sees Zovko most days while working at the Student Programs Office. "She is always just so aware of people around her and always so conscious of supporting and loving people," he said. Padulsky can always expect an e-card from Zovko if she senses he is having a bad day, a human touch that makes up for what she says she sometimes lacks in administrative skills.
"What I've really grown to understand is that, obviously I need administrative skills, obviously I need to do my job, but I have other gifts as well that are really important," Zovko said. Her passion is for freshmen, the new kids trying to understand the fast-paced changes in their lives, but Zovko said she keeps an eye out for anyone who looks like he or she might need someone to talk to. It is often the ones who look confident-the resume builders and social butterflies-who actually need to talk the most.
Chebator agreed that Zovko's greatest strength lies in her ability to connect with individual students, both in ELP and beyond, but he refused to let her say that she was somehow shirking her administrative duties. Zovko, he said, often returns to her office later at night to finish paperwork so that she can spend the day talking with students in her office, asking them about their lives and goals over a cup of coffee.
"Compassion and kindness," Zovko said. "Those are my two biggest values."
---
Chebator's own relationship with students has changed over the years.
Aside from a section of Courage to Know that he has taught for about a decade-what he calls an "enriching and rewarding" experience-he does not have the chance to interact directly with students as much as he did as an associate and assistant dean, but he has striven to focus his office as a place of advocacy for students-all while working to respect the University and its traditions.
Chebator's office, for example, advocates for GLBTQ resources such as the Spectrum Retreat. "We can have a retreat sanctioned and funded and sponsored by the University for our GLBTQ students so that they can explore some of the issues that are critically important to them in a way that works within the Boston College tradition," Chebator said.
RELATED: Dean Of Students Paul Chebator To Step Down After 34 Years
Chebator insists, however, that the suffusion of the Catholic Jesuit tradition throughout the University does not stand at odds with his efforts to support the students, but most often enhances them. At BC, he knows that he can pick up the phone at 3 a.m. in a time of crisis and that anyone involved with the University would be willing to help. "That's not true at many places," he said.
Rev. Jack Butler, S.J., the vice president for the division of University Mission and Ministry, has been on the receiving end of several such phone calls from Chebator. Early in Butler's time at BC, a student suffered a severe head injury-and Chebator was trying to muster a response.
Butler made his way to the hospital only to find Chebator himself already there, leaving Butler wondering why Chebator would even call him in the first place. Butler would learn over time, however, that Chebator never asks anyone to do something if he is not going to do it himself as well.
The two men alternated tasks-one would work with the student and the other would work with the mother, but it soon became apparent to Butler that Chebator was not concerning himself only with the matter immediately at hand. Throughout their response to the crisis, Chebator would send Butler notes of gratitude or boxes of cookies.
"I started to realize 'Oh, my God. Not only is he caring for the student, he's caring for me,'" Butler said.
Since then, Butler has developed a close friendship with Chebator. "Paul has lived out and embodied my understanding of cura personalis in the way he has cared for our students," Butler said.
Cura personalis, or "care of the whole person," is one of the core Jesuit values with which Chebator's relationship has changed significantly over the years. While he and Zovko were both raised Catholic, negative early experiences with religious education drove them from their faith-Chebator recalls being afraid to step on the property of a Protestant church as a young boy, and Zovko remembers her fear of accidentally mishandling the Eucharist.
In their time at BC, however, the couple's relationship with faith has been largely repaired and deepened. Conversations with Jesuit friends such as Butler have proven themselves foundational for Chebator, and Zovko is currently working her way through the Spiritual Exercises of St. Ignatius over a nine-month period.
"These last couple of years have been so rich for us in terms of our spirituality," Zovko said-she considers herself and her husband fortunate for not having decided to retire any sooner. Had they left BC earlier, they might have missed one of the many paths that led them to the exact moment they are in-and these paths have not always been clear. She compared her and Chebator's experiences to the 1998 movie Sliding Doors, which follows Gwyneth Paltrow's character into two radically different universes-one in which she caught a train, the other in which she didn't.
Chebator agreed, calling his arrival at BC not the result of traditional career steps, but instead a series of stumbles-he was just in the right places at the right times. In an alternate universe, Chebator might have taken a job in the private sector. While he was working at Bunker Hill Community College in 1980, he was offered a job at The Seagram Company. An offer from BC was also on the table, but Seagram flew him down to Tampa to discuss working for the company in the South-a tempting offer.
In her own alternate universe, Zovko might have never left her secretarial work at Lehigh University, never pursuing higher education of her own.
But in this universe, Chebator was on the flight back home from Tampa, remembering a man that he knew who had moved his family countless times just to reach that corner office on Fifth Avenue. He decided that working in education was what truly brought him joy-and he accepted the job offer from BC instead. Zovko, meanwhile, was encouraged by a man at Lehigh to pursue her education, and, after some resistance, she eventually made her way to Ithaca College, designed her own major, and set upon the path that would ultimately lead her to her own job at BC.
Now, a new path:
In the first three months after retirement, the pair will stay with friends in a small Italian village between Rome and Florence, but they will quickly return to serving their communities-Chebator would like to spend some time volunteering at his local library and working on environmental issues, such as helping to protect sea turtles near the Florida home in which he and Zovko hope to spend their summer months. Zovko, meanwhile, would like to, as she calls it, "accompany people" through all stages of life by spending time with babies in neonatal care and volunteering in palliative care units.
Both are comfortable with the idea of making a new life without their current BC titles, and, unlike many married individuals preparing to retire, they're not too worried about growing sick of each other-almost two decades as a married couple in one workplace has taught them how to spend every day together.
---
One of the photos on Chebator's shelf shows him and Zovko in front of the doors of Florence's Palazzo Vecchio on their wedding day, moments before they would be married by the city's magistrate.
Zovko holds her bouquet in one hand, and Chebator grasps her other hand with his two, supporting her as she lightly lifts her leg from the ground and throws back her hair. It looks like they are in the middle of some elegant dance, but Zovko remembers that they were actually horsing around like always, trying on different semi-poses, and a friend of hers captured the moment.
They were just enjoying each other.
Featured Image by Emily Sadeghian / Heights Editor