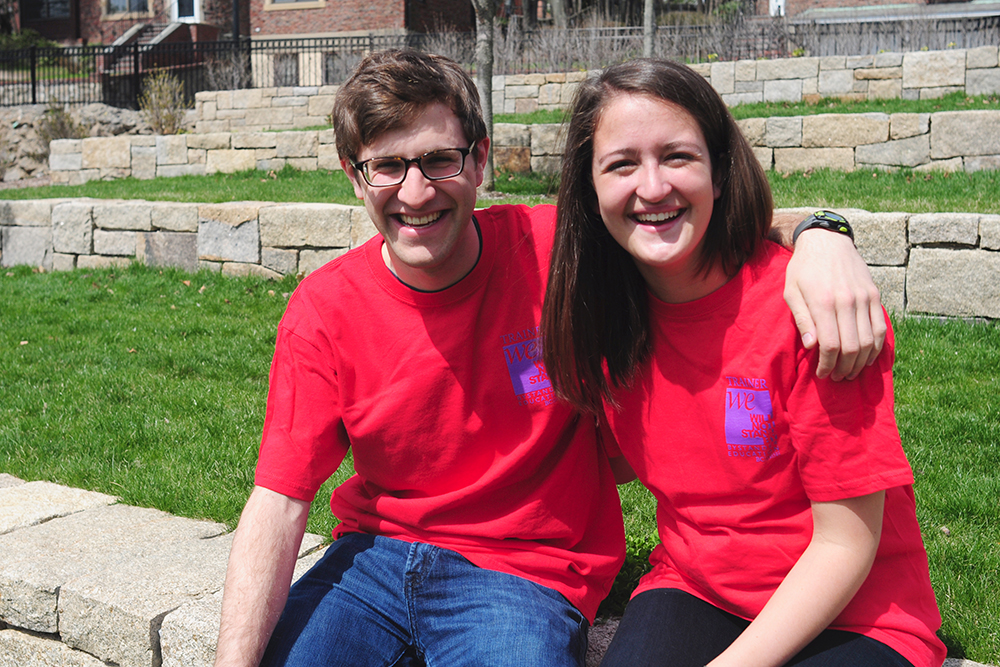 BC Students Strive To Change Culture Surrounding Rape And Sexual Assault
The t-shirts are a bright, unapologetic red, and the message they bear is equally uncompromising: We will not stand by.
Student trainers for the Bystander Intervention program at Boston College don these shirts on a regular basis. This small group of undergraduates works together to educate their peers on rape and sexual assault, as well as methods to stand up against rape culture and step in during situations that may lead to assault. As lead trainers of Bystander, Ande Giancarlo, CSOM '15, and Joey Palomba, A&S '15, have taken on greater responsibility for coordinating these presentations, training the trainers, and improving Bystander overall. This year is the first in which the Bystander program included student lead trainers-the program is traditionally managed by a graduate assistant within the Women's Center (formerly the Women's Resource Center).
Although they both speak openly and with good humor, there is an undeniable solemnity running throughout their descriptions of Bystander. The pair is serious about cultivating a community that does not condone sexual assault and rejects the rape culture outright.
Giancarlo and Palomba have followed a relatively similar path within Bystander, and they have worked together since their own training before the fall of sophomore year. They did, however, take different paths to involvement. "I joined initially because of family reasons-I was personally affected by it," Giancarlo said. "I think that a decent amount of people who join the program have a personal connection to the issue, but it's also really admirable when people don't, and they still recognize the gravity of it."
RELATED: Students Work To Supplement Bystander Education
Palomba is one of those Bystanders who joined without a personal link to the issue of rape and sexual assault. When he was a freshman, he found himself listening to three BC women practicing their speeches for Take Back the Night. He hadn't been doing much that night, and one of his RAs invited him to come to the program. Without any idea of what to expect, Palomba went. "It was really powerful, and I was kind of very overwhelmed," he said. "I had never heard a story like that before, and I was just very taken aback. I kind of just sat back and went, 'Look, you know, most of my friends are girls. I have a sister, I have a mom'-I had no idea that this was such a big issue. Something like this was not even on my radar screen."
Over the last two years of involvement, Palomba has also been particularly aware of another sort of stigma that surrounds these issues-that they are only of concern to women. When men are involved in speaking out against sexual assault and the rape culture, Palomba said, people tend to look for specific justification of their interest.
"I think that there's just a lot of … misconceptions about who would be interested in helping out in a cause like this," Giancarlo said. "And I know that Joey gets that a lot, where his friends don't really understand why he's involved, because he hasn't been personally impacted, but he's like, 'I don't need a reason, it's just what's right.'"
In their capacity as Bystander lead trainers, Giancarlo and Palomba have pushed to create a more public image for the program. In part, this has meant taking the initiative to bring their work to the general student body, rather than confining it to training sessions. Last fall, after the infamous "BC Confession" post sparked discussion about the prevalence of sexual assault on campus, the pair helped organize a response event, bringing in administrators and members of BCPD as well as giving an impromptu Bystander presentation to help students process the week's events.
Not all their work is visible, however. Megan O'Hara, the graduate assistant for Bystander, works closely with the pair and lauded their personalities and their commitment to the program.
"I've just been so proud and inspired and honored to work with them," O'Hara said. "I'm impressed with all the Bystander trainers, just in the way they're so committed to it, but Ande and Joey specifically devote so much of their time-I don't think other people even realize how much they do."
RELATED: Students 'Take Back The Night' For C.A.R.E. Week
Although Bystander, and the pair's work in the program, often flies under the radar, Palomba in particular did come to the limelight a few weeks ago. At the end of February, he and Jessica Stevens, another student staff member of the Women's Center and A&S '15, were invited to the White House in order to participate in a roundtable discussion about preventing sexual assault on college campuses. Just a few days ago, on April 29, the White House released "Not Alone," the first report of the White House Task Force to Protect Students From Sexual Assault. In one of the sections dealing with prevention methods, the Bystander model was specifically referenced, echoing the same points that Palomba and Giancarlo raise in their work at BC. "Among the most promising prevention strategies-and one we heard a lot about in our listening sessions-is bystander intervention," the report read. It noted that when peers' acceptance of sexual assault is overestimated and their willingness to intervene when a woman is in trouble is underestimated, the likelihood of individuals stepping in to help goes down.
Stepping in doesn't only apply to situations wherein someone is in physical danger-throughout her involvement with Bystander, Giancarlo said, she has become increasingly confident and willing to speak out, even outside of the presentations. "I think there are groups of people that know that I will speak up if someone makes a rape joke, or if someone makes a sexist comment," she said. "I think they probably see it as annoying, but I see it as necessary."
Although Giancarlo may describe this willingness to voice objections as "annoying," those who work with her don't see it the same way. "I have such confidence in her ability as a trainer," O'Hara said. "In both of them, but just focusing on Ande at this point-I have full trust in her ability to speak for our program and to represent our program, not only in what she's saying about it and how she's able to articulate it-but I know that she's the kind of person, just in life, that is not afraid to be herself and stand up. Our whole program is about intervening … Ande has example after example of times where she can use her humor to step in and not make people feel bad, not make people feel judged, but to get her point across."
When discussing such sensitive topics, a welcoming demeanor and ability to connect with other students is paramount-and both Giancarlo and Palomba possess that knack. "From what I have seen as Bystander trainers, they both take their work seriously, are passionate about the topic, and work really hard for the program, but they also know how to make it fun and engaging for others," Stevens said in an email. "I think they do a good job of helping people feel welcome and comfortable no matter what the situation is."
O'Hara agreed. "They're such friendly and welcoming people, I think they've created a really good spirit within our community of trainers," she said. "They have a lot of energy and really get excited for the things they're doing."
Next year, Giancarlo will be joining the Women's Center staff as a Bystander advocate, yet another step up in responsibility. While Palomba will be easing back from his leadership role in Bystander in order to apply to Ph.D. programs in chemistry, he plans to continue delivering presentations and keep the conversation going.
"The average BC student either doesn't want to talk about these things or doesn't want to believe that this kind of environment exists in the Mods or their off-campus party, you know?" Palomba said. "But hopefully-fingers crossed that it gets easier to talk about."